In hoc signo vinces...
I took the last week of September off as a much-needed vacation in the Adirondacks. We mostly went for the scenery, especially the beautiful fall leaves, but we also stopped at some historical sites. Two of those, including one I didn't expect at all, proved memorable.
The unexpected site was in Oswego, New York, a place I'd never been before. We followed signs for Fort Ontario to get to the Lake Ontario waterfront. Between the parking lot and a cemetery was a cross:
The sign on the cross provided a little more explanation for its presence: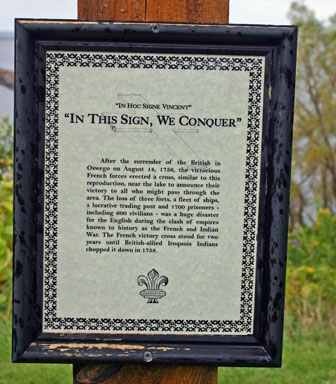 Explanation for cross, reproducing a 1756 French victory cross.
(I think that "signe" should be "signo", and the "vincet" is typically "vinces", as in Constantine's classic In hoc signo vinces dreams, which led to Constantine's acceptance of Christianity and eventually its establishment in the declining Roman Empire.)
The original cross was raised in 1756, by the country of my father's ancestors, near the beginning of a war that also drove the Quakers out of government in Pennsylvania. In Pennsylvania, the French had built Fort Duquesne, which they would lose, like Oswego, in 1758. Pennsylvania shifted decisively from Penn's original vision during this war, culminating with the outrages of the Paxton Boys.
Quakers moved to the sidelines during this war, leaving the erection of victory crosses after a battle to others, arousing suspicion with their lack of support for the war, a suspicion that continued in later wars. While not all Quakers may have left the Pennsylvania Assembly over the war (as Margaret Hope Bacon contends in a note to Friends for 350 Years), this period saw their grip on political power shattered, never to return.
The other place we visited raises harder questions about religion and peace, and I'll write about it soon.